Rdeals Canada: Vouchers for 50% Off Baking Goods & Accessories @ Baker Haven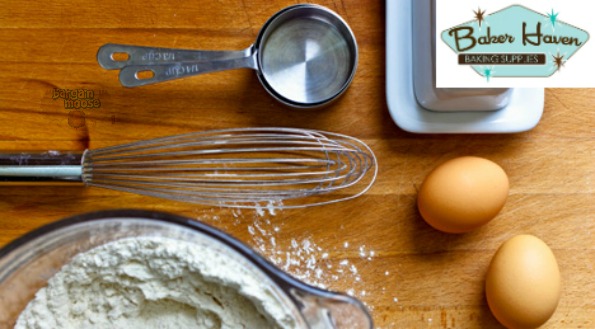 Rdeals Canada is offering vouchers for 50% off baking goods and accessories at Baker Haven.  There are 2 options available: $10 for $20, or $18 for $40.  You may purchase up to 3 vouchers for yourself as well as 3 for gifts.  Taxes and shipping are not included and only 1 voucher can be redeemed per order.  Vouchers cannot be combined with any other offer and deal expires on October 5th 2012 although voucher will not expire until 1 year after deal closes.
There is all kinds of bake ware available, but I tend to look at the food ingredients since I already have most of the bake ware items needed.
I like to have decorations on hand and this 5 oz colour dust comes in 9 different colours.  They are only $5 each and with the $18 voucher, you can get almost all of them at half price.  The Gel Icing Sparkle is 3.5 oz and there are 6 colours available for $5 each regular price.  These are awesome for letting kids decorate their own cookies or muffins because they are so easy to use, just like drawing.
These Party Sprinkles are great to have with all the different sizes and colours of sprinkles in one container.  These are a regular price of $6 which is comparable with supermarket prices, and with your voucher you can get it for half price.  My grandchildren love to put sprinkles all over their cookies and cupcakes, but be ready for the mess.
If you need anything from the bake ware, it's definitely this Sheet pan – 18 X 26 that's a nice big size to accommodate anything you're baking.  These are made from hard aluminum which I find is the best material for baking sheets.  This is only $22 regular price and could be half price or even free with your voucher.
The tools I find absolutely necessary for baking are a rolling pin (I prefer the wooden kind), a whisk (I only need one size), a spatuala set (I like to have at least 2 sizes, the smaller one is better for those tight fitter jars and containers) and possibly a pastry brush which should not be used for other things like BBQ's.
I really don't find that cook books are necessary anymore, since any recipe you want should be somewhere on the internet.
I am definitely buying at least one voucher, maybe more, since this is something I will get a lot out of.
Shipping: Flat fees based on weight and method chosen.
(Expiry: 5th October 2012)