Rdeals Canada: Voucher For 67% Savings On Shark Store Pedometer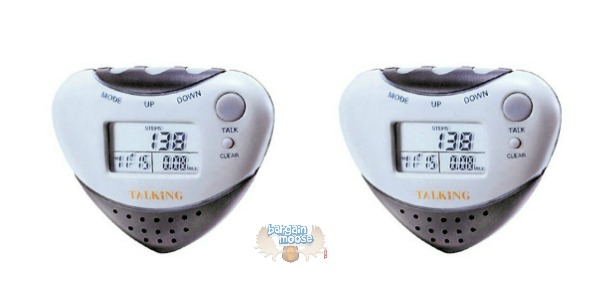 Rdeals Canada has vouchers for 67% off a digital talking pedometer from Sharkstores. Purchase a maximum of 10 vouchers per customer/redemption. Cannot be combined with any other offer and voucher expires 6 months from the date the deal closes. Shipping and taxes included in price for Canadians.
The digital talking pedometer is exactly what it says, as it counts your steps and distance traveled and announces it. It also announces current time. While you're walking it plays melodies that are in sync with the speed you are walking at.
It runs on a button cell battery, which is included and will count and announce up to 99,999 steps. The pedometer is quite small, only 21/2 inches by ¾ of an inch and clips right to your clothing, so you can have hands free.
I don't know if this would work very well for me as I usually have my dog with me on walks and he loves to stop and sniff everything. Can you imagine , with this pedometer talking to me, how annoying that might be. I do wonder sometimes though, how far we have actually walked. I think for $10, I might just find out.
These pedometers are becoming more and more popular with people as they walk or jog. I see them quite often when walking through the park. I check various websites and found the cheapest one to be $19.99 with no music or announcements. Of course, that might be what your prefer.
Shipping: Included in price for Canadian addresses and takes 2 – 3 weeks after redemption.
(Expiry:22nd August 2012)