Purdy's Contest: Win $250 Worth of Chocolate For Your Valentine (CLOSED)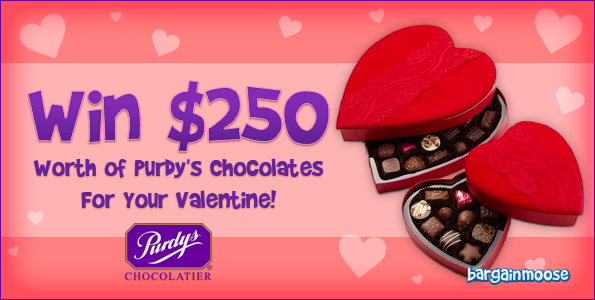 * Contest now closed, winner is Piroska! *
What would I do with $250 in Purdy's chocolate? I would eat it of course! I don't even know if I would share it. I can speak from experience as I had three boxes at Christmas and I told my kids they couldn't have any. It was just too good to let children eat it - they are happy with chocolate from the dollar store! Me, on the other hand, I like the good stuff and Purdy's is my absolute favourite chocolate in the world. In fact, my mom got each of the kids Purdy's lollipops, which I have had stored in my desk for when they are truly good and deserve a treat, and confession time, I ate one yesterday myself. This chocolate is irresistible.
I wish I could find a way to win this contest, but unfortunately, I can't. But, all of our loyal Moosers have a chance to win $250 of your choice of chocolate from Purdy's.
If I had my choice of $250 in Purdy's chocolate, I'd choose:
the Almost Perfect box - a box of imperfect chocolates because even though its not perfect, I bet its an amazing 3lbs of chocolate ($39.95)
the Himalayan pink salt caramels - these are my absolute favourite and the combination of sweet and salty is so to die for ($19). I'd probably get myself five boxes of these.
Hedgehogs - I might be nice and get these for my kids, or they can have maybe one ($30 for 20pcs). These are so smooth in your mouth!
Sweet Georgia Browns - My mom would crucify me if I didn't get her a box of these, as they are her absolute favourite. These are like turtles but a million times better. ($17)
Since Valentine's Day is coming up, we can't forget our sweeties either, and I'd probably get my husband True Love Velvet Heart ($30), and since I'd be the one to win the prize, I'd get him to give me one too ;)
With the $8 I'd have left, I'd get two of these marshmallow hearts - one for me and another one for me ($2.95).
How to win this prize?
Have a look around Purdy's site and tell me what chocolate makes your mouth water!
Get bonus contest entries!
Rules:
Canadian entrants only
One entry per household
Ends 5th February 2015
Rules subject to change at admin's discretion