Plum Canada: $20 off $95 Coupon Offer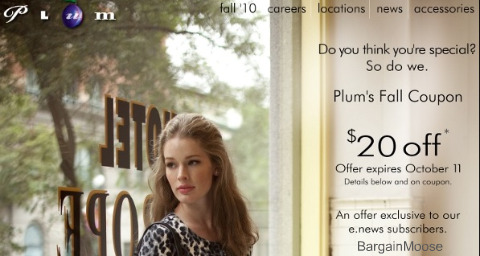 I have never seen a Plum store where I live, but they have sent out a nice little offer for anyone who shops at Plum. If you are a newsletter subscriber you can just fill in your email and get a $20 off $95 printable coupon. If you are like me, and not a subscriber, you enter your email and then it will tell you that you are not a subscribe and offer you the opportunity to subscribe and then get your coupon. Each coupon is personalized so you have to go through that step.
Evidently Plum is just in BC and in Calgary, AB so this is a bit region specific (sorry). However this coupon gives you over a 20% discount in store so I felt it was worth posting.