Parents Canada: $10 for 2 Portable Foldable & Reusable Dog Food Bowls ($20 Value)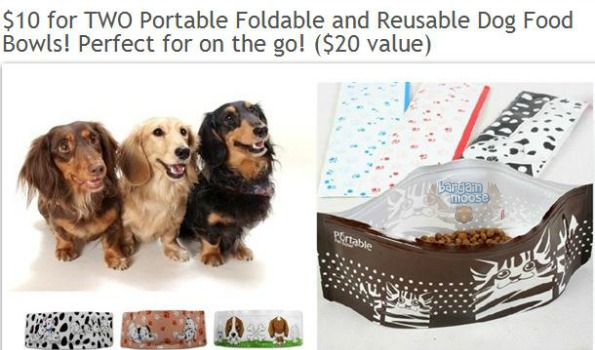 Parents Canada has a great deal out for anyone that has a dog.  Until 31st July, you can get 2 portable, foldable and reusable food/water bowls for just $10 with the shipping and taxes included.
Here is a little more about this great deal:
Made of durable recycled plastic and zip up so they are leak proof
May purchase unlimited vouchers
Orders arrive in 3 to 4 weeks after redemption
The regular value of these bowls are $20.  With this deal you will save 50% off the regular price.  To redeem visit www.handygadgets.com to enter your voucher number to choose you design of bowls.
I have 2 dogs and we like to travel a lot.  We actually have a few of these (not the exact ones but similar) and they are a life saver on road trips and long walks.  We use them on road trips for feeding the dogs at a rest stop.  It saves room in the car so we don't have to pack bulky bowls.  Even though they are meant for food, on long walks we use them for water.  We always have a water bottle with us and we just fill up the bowl for them if it's really hot out.  They are so handy!
If this is your first purchase from Parents Canada, use the Parents Canada promotional code SIGNUP to save $2 on your order.
(Expiry: 31st July 2012)