Nudy Patooty Coupon Code: 20% Off Gift Cards & Store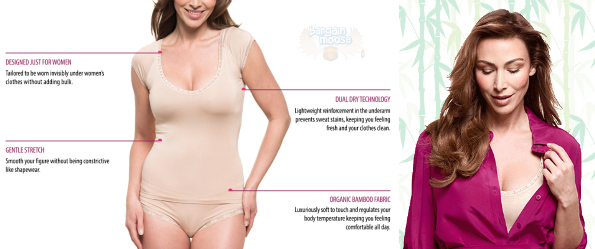 Right before Christmas I like to blog discounts on gift cards as it is often too late to have a product arrive in time for giving to your loved one. Nudy Patooty is offering 20% off gift cards and their entire store with the following coupon code.
Click here to shop @ Nudy Patooty Canada now
Coupon Code: HOLIDAYS2014
Discount: 20% off
Expiry: 26th December 2014
You can choose the currency at the top right (USD or CAD) but gift cards appear to default to USD in your cart. They are still redeemable for the Canadian equivalent. Nudy Patooty makes all their products in Canada and ships all Canadian orders from within Canada.
Nudy Patooty makes bamboo undershirts for women. The shirts are made with a reinforced armpit to create a sweat barrier between your body and whatever shirt you are wearing over top. Are you tired of turning your dress shirt armpits yellow? Then you seriously need some of these undershirts. The Nudy Patooty is functional in three ways:
Provide a sweat barrier between you and your clothing
Provide additional modesty underneath semi-sheer or low cut tops
Reduce washing frequency for business attire
The undershirts are made of premium organic bamboo and truly feel amazing. I own three of these shirts myself, and they hold up extremely well to wear. I have found some added benefits to the shirts as well. They are very comfortable for sleeping in and help wick away sweat if you overheat under the blankets. They also make a fantastic lounge shirt. The material is softer than most loungewear I have tried, so it is extremely comfortable to wear just around the house.
While I own the short-sleeve and the three-quarter sleeved versions, I really do want to buy the Cropped Short Sleeve Undershirt for Women as it is a better fit for my wardrobe. The shirt costs $44 USD and I hope to add it to my collection someday. My problem is these shirts last so long I can hardly justify buying another when my current three look almost as new as the day I got them!
If this is something you like, or think someone else would like, then you might want to pick up a gift card. With this promotion, you can buy the following popular gift card denominations for less:
$25 for $20
$50 for $40
$75 for $60
$100 for $80
Nudy Patooty is brand new to Bargainmoose so I hope you take the time to check them out. Happy last minute shopping Moosers!
Receive free shipping on orders of $100 or more.