Lavish and Lime: 40% off Sale Shop, 15% off Glass Water Bottles Coupon Codes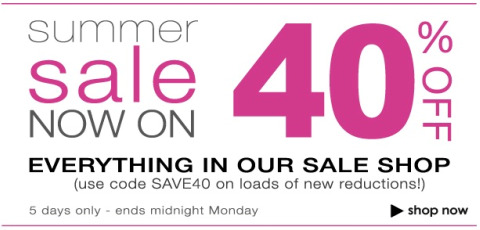 Lavish & Lime is having a wonderful 40% off their sale shop, with summer items just added to it!
Just use this coupon:
Discount: 40% off sale items
Coupon Code: SAVE40
Expires: Monday, August 23, Midnight.
They added these really cool Kid's Insulated lunch Bags (like the tiger, panda, and rabbit) and Adjustable Kid's Summer Hats... that grow with your kid!
If you aren't interested in their sale items, you might want to check out their famous glass water bottles (I have one)! With the following coupon you can get 15% off plus a free gift!
Discout: 15% off plus free gift of 'on-the-go hand sanitizing wipes from CleanWell'
Coupon Code: SWEETSPOT
Expires: Wednesday, August 25 at 11:59 pm (EST)
Both two decent offers from Lavish & Lime. Unfortunately, you cannot use both coupons in the same order online. If you want to get by that, maybe try phoning customer service.. I have had excellent service from them before!
Free pick-up in Metro Vancouver.