KodakGallery.ca: Free Photo Book with Purchase Coupon Code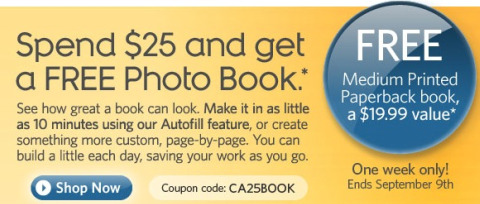 Spend $25+ at KodakGallery Canada and receive a FREE 20 page photo book! The photo book is paperback and medium in size. There are lots of different options to customize your photo book so no two need ever look the same. The medium paperback photo book has a value of $19.99!
Make sure to enter your promo coupon:
Discount: Free Photo Book
Coupon Code: CA25BOOK
Expires: September 9, 2010
If I had more time (who has time any more?) I would love to take advantage of this offer and commit the photos from my honeymoon in Vancouver to photo book. I could buy one for $25+ and get another one for free!
Fine Print included for additional details regarding the offer:
Enter coupon code CA25BOOK to receive one free 20 page Medium Printed Paperback Photo Book when you spend $25 before shipping, handling or sales tax. Additional pages can be purchased for $.99 each. Cannot be combined with other offers. No substitutions, transfer rights or cash equivalents will be given. Coupon code or discount valid only on the English language version.