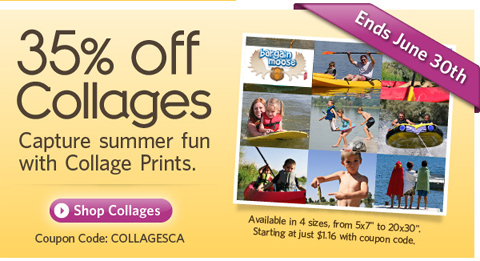 With this Kodak Canada promo code, you can save 35% off the cost of any collage prints you order.
Click here to use the  promo code online
Promo Code: COLLAGESCA
Discount: 35% off collage prints
Expires: 30th June 2010
Terms:
Cannot be combined with other offers. No substitutions, transfer rights or cash equivalents will be given. We reserve the right to modify or discontinue promotions at any time. Coupon code or discount valid only on the English language version of Kodakgallery.ca. To use this code, your account must be set to Canada English. To check your settings, log in to Kodakgallery.ca. Then, choose Account Details at the top of the page. Choose Personal Information and make any necessary changes to your country setting.
I think collage prints are cute. I like putting together a series of pictures to illustrate something that has happened... I plan on making some brilliant ones when I gather up some more photos of my new baby girl :)