Kobwa Self Defender Tactical Outdoor Survival Pen Just $8 + Free Shipping @ Amazon.ca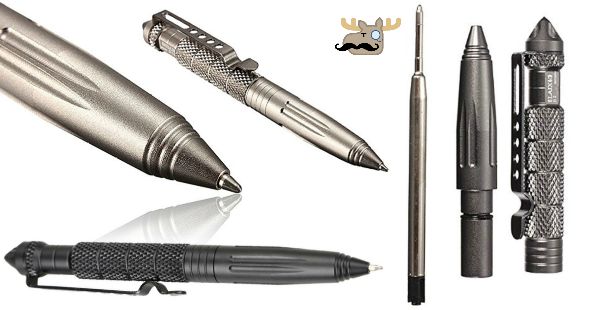 Here is a fabulous tactical pen available at a great price over at Amazon.ca.  You can grab this Kobwa Self Defender Military Police Outdoor Survival Tool Pen for just $7.69, including free shipping. This pen is available in three different colours and would make an amazing stocking stuffer for any man in your life.
This Kobwa Tactical Pen is definitely designed to be multi-purpose. For under eight bucks you can have yourself a fantastic writing tool as well as a durable safety mechanism. You might be wondering how this pen doubles as a safety tool, but I have the answers. I was wondering the same thing myself. I was hoping they didn't mean this tool was designed to stab people. This package includes the multi-purpose Kobwa Tactical Pen as well as a keyring with the Kobwa logo so you can attach the pen to your keys so you always have it on hand.
Which leads me to tell you how this pen also doubles as a safety tool. This Kobwa pen can be used as a glass breaker. The tip of the pen is designed to be ultra durable and tough enough to puncture just about anything with enough force. Which means essentially if you are walking down a dark alley alone, it can also be used for self defense if necessary.
This Kobwa Tactical Pen comes in three different colour choices:
You're probably thinking that this pen would be pretty much useless once the ink runs out, but you're wrong. This Kobwa pen features a spiral type refill design which means you can use this pen for as long as you want, and refilling the pen is super easy. While this item is not necessarily on sale at Amazon.ca, it is still a much better price than other Canadian retailers seem to be selling similar products for. Other tactical pens I found online were upwards of $24. I am thinking of grabbing two or three to use as stocking stuffers for my dad and grandfather.
While Amazon Canada usually throws in free shipping on all orders over $25, this item has a bit of a different set up. It is actually shipped and old by a seller called eFuture.SR. and they are offering free shipping on these pens, even though they are just $7.69.
(Expiry: Unknown)