Kate Hewko Coupon Code: 10% Off & Free Shipping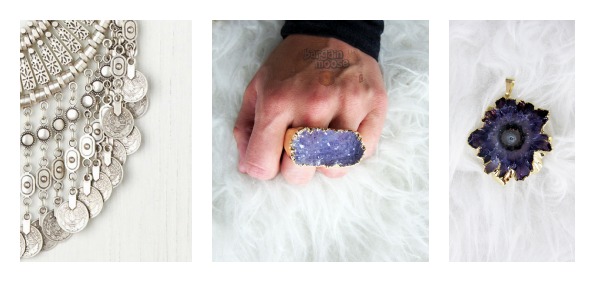 Receive 10% off stunning jewellery at Kate Hewko Canada with free shipping across Canada.
Click here to shop @ Kate Hewko now
Coupon Code: THANKSFORTHELIKE
Discount: 10% off
Expiry: Unknown
This is a reward for those who like her page on Facebook, so go ahead and like her.
I have recently fallen in love with a necklace. Anyone who knows me will realize this is rare. While I have my obsessions like fashion and lingerie, jewellery does not happen to be one of those passions. I own a sparse collection with very select pieces that are versatile with my wardrobe. Thus, when my eyes lit upon Kate Hewko's Coin Collar Statement Necklace and I could not get it out of my mind for weeks; I know I would have to purchase it. The necklace is just so stunning. I love the different layers and the sheer massiveness of the piece. I could pair this with a simple black dress or a light chiffon tunic with leggings. The necklace would do the talking; the rest of my wardrobe would not have to. It retails for $125, but after coupon comes down to $112.50.
This necklace is not the only thing I love. Stones in the rough have always had a certain appeal to me especially when those are agates and stalactites. This Double Finger Druzy Ring is the only double finger ring I would ever wear. The sparkle of the crystals just drives me wild. I love the pale white and purple combos better than the deeply saturated blues. Originally $115, the ring comes down to $103.50 after coupon code.
Now this pendant, I may also have to buy for myself. It ranks such a close second to the necklace I mentioned above. The Stalactite Pendant is a big beautiful piece of our world with gold-plated backing and mounted on a gold-plated chain (25" long). While the measurements of the actual pendant are not given, I almost don't care. I love earth science and jewellery like this makes me feel closer to crawling in caves looking at the natural and beautiful formations. The pendant retails for $95, and comes down to $85.50 after coupon.
I could spend a small fortune in this store, as this is my kind of place to buy jewellery. I love something different that almost no one else will own and that reflects my personality, not the latest fashion fad.
Remember, everything on the Kate Hewko site comes with free Canadian shipping.