Stunning and Therapeutic Glam Pillows $39.99 USD (Reg. up to $59.99 USD)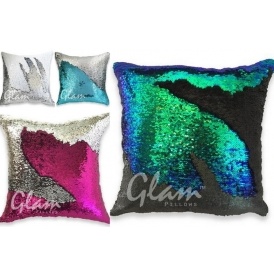 You'll absolutely want one of these Glam Pillows. The pics you see are showing how one has smoothed them into that color/pattern. One swipe with a finger or hand changes everything about this pillow. You can literally draw on it and smooth it out, over and over again.
These are so popular that they're now only taking pre-orders. The pillows are on sale for $39.99 USD down from $54.99 USD or $59.99 USD. You're purchasing the 18" x 18" cover only and can select from 6 beautiful colour variations.
These luxurious reversible sequin pillows become your own personal canvas, allowing you to change their colors with the swipe of a hand. Create monograms, write personal messages, or draw intricate designs based on your mood, instantly turning your pillow into a work of art! You have to see it in action to believe it.
It's fun, intriguing, mesmerizing,"and even "stress-relieving," these one-of-a-kind sequin pillows have gone viral with over 30 million views online and press features on networks such as BuzzFeed, MTV News, Cosmopolitan, The Today Show, and many more!
Shipping into Canada is $4.95 USD and they ship via USPS. You may need to pay import fees when it arrives, but if so it should be minimal.