Free Wedge Touch Mouse with Office 365 Home Subscription @ Microsoft.ca ($50 Value)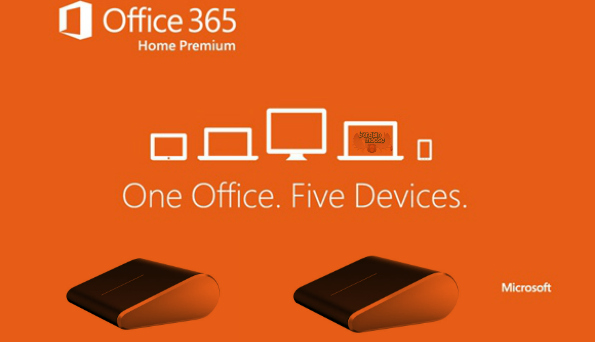 Purchase a 1-year subscription for Office 365 and receive a wedge touch mouse, valued at $49.99, free of charge. A year of Office 365 Home will cost just $99 in comparison to the $10 monthly rate.
This offer is only available when you purchase a one-year auto-renewal subscription. It is not valid with the monthly home subscription or the personal subscription. There is a difference between the home and the personal versions: Home is for five PCs or Macs plus five iPads or Tablets. With the personal version, you only receive one copy for your desktop and one for your tablet.
Each user will receive one TB of space on OneDrive. You also receive 60 minutes of of Skype calls per month to over 60 countries included in the subscription. For one-year, you will be able to talk for 720 minutes free to almost any country in the world.
The following applications are included in Microsoft Office 365 Home:
Word
Excel
OneNote
PowerPoint
Outlook
Access
Publisher
Skype
Now, I am on a Windows based computer and hate it. I do not hate the computer; I actually hate the software so much it hurts. However, Apple does not make decent gaming computers so I am stuck. I would personally dump Outlook the second you get it - I find it horribly infuriating. The only nice thing about it is the organization and synchronization between your devices.
Now, despite my hate for Windows, I do like several features. Excel is still one of the best spreadsheet programs around. If you have not learned how to use a spreadsheet program yet, please take a half hour and go over the basics. You will save yourself a lot of time and effort. I also am rather fond of OneNote. I practically store everything that I need to remember in there. I like the coloured tabs. OneNote also has an auto-backup system somewhere because I accidentally deleted everything and managed to restore it all.
While many people underestimate Skype, it is a fantastic program for chatting and video conferencing. I love the 60 free minutes per month included in this deal, as I have relatives overseas.
Now, to get the mouse you need to click through to buy. The mouse will be on the next screen and you need to check the box beside it to add it to your cart. Make sure both items are in your cart before checking out. The Wedge Touch Mouse is a funky little mouse that connects to your device via Bluetooth. It supports multi-touch control and swipe functions.
Receive free shipping on your order.
(Expiry: 31st January 2015)