Edible Arrangements Free Dipped Fruits With Purchase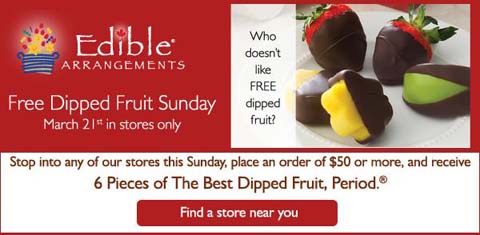 This Sunday, stop by Edible Arrangements to place an order of $50 or more and receive a free 6-piece Box of Dipped Fruits.
It's that simple, when you place an order of $50 or more on anything at Edible Arrangements this Sunday, 21st March 2010, they will give you a box of Dipped Fruits at the store.
If they taste as good as they look, I may have a new favourite comfort food, at least it's slightly more nutritious than m&ms!