Edible Arrangements: $10 Box of Dipped Fruit (Reg. $25)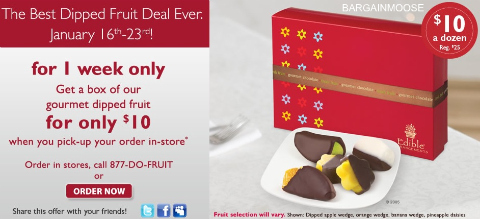 Edible Arrangements has a special deal on this week: a box of yummy dipped fruit for only $10, regularly $25. You can get them in a variety of fruit like pineapple, banana, apple, orange, etc!
You cannot order these online, but you can call in to order them so they don't all disappear. You just will need to pick them up in store. This sale goes through the 23rd of January, 2011.
Who doesn't love chocolate dipped fruit? This is a great price too.. you get a dozen pieces in a box!