Dealbang.ca Coupon Code: Exclusive 15% Discount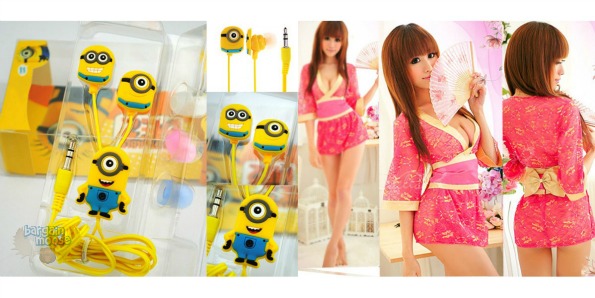 Dealbang Canada has given Bargainmoose an exclusive coupon code for 15% off anything your heart desires on their website. Stack your discounts when you use this promo code to purchase deals at Dealbang.ca.
Click here to view the current deals @ Dealbang.ca now
Coupon Code: BARGAIN112
Discount: 15% off
Expiry: 7th September 2014
This discount code will only work if you register an account with them and then use it from your account. Dealbang Canada mostly sells gadgets that you never knew you needed, or you knew you needed but never had time to go find. Here are some of the items I found interesting.
$15 for an Iron Man 4GB USB Flash Drive + $5 shipping ($40 value)
I have no problem with my status as a geek and I don't mind showing it with various cool geek accessories. This 4GB Iron Man flash drive is pretty cool in my books. I rarely use more than a couple of GB of space, and it looks great too. I just love how the eyes light up when he is plugged in. It would make a great stocking stuffer too if anyone is thinking ahead to Christmas yet. After coupon, pay $12.75 plus shipping.
$12.49 for Despicable Me Minion 3.5mm In-Ear Earphones + $3 shipping ($35 value)
These are so adorable I just want to scream! I know so many adults, never mind kids, that would love to have these. While I love the rest of the characters in Despicable Me, there is just something special about those minions that make everyone want a few. This set has three minions: one on each earbud and one to control the length of the cord. After coupon code, you will pay $10.62 + shipping.
$15 for a Kimono Japanese Dress Pajamas + $5 shipping ($65 value)
I adore the style of the kimono, as it is just so beautiful. While I am not exactly sure of the quality of these pajamas, I am sure they would be one of the most enjoyable sets I own: and so cute too. The pink fabric with the gold accents is so adorable. I think this is my favourite deal out of everything that Dealbang has to offer right now. After coupon, pay just $12.75 plus shipping.
Dealbang also has many free offers, where you just pay for the shipping. While this coupon code won't help you with those, I highly recommend checking them out. My favourite free offer right now is the $0 for a Red/Black Printed Kurti. Just pay $8.95 for shipping.
For this and any future Dealbang Canada coupon codes, visit our forums.