Danna Bananas Coupon Code: 20% off for Father's Day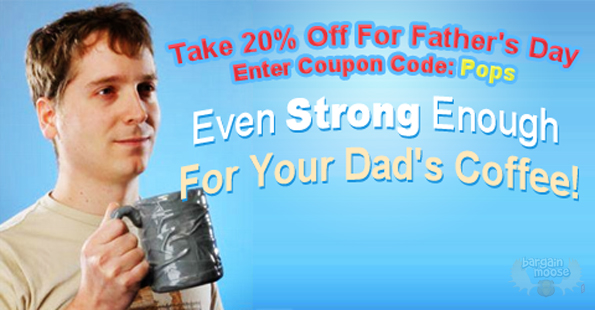 Danna Bananas is offering an online 20% off coupon code for their Fathers Day sale. This coupon is good for 20% off anything at Danna Bananas. Here are the details:
Click here to use the Danna Bananas coupon code now
Coupon Code: Pops
Discount: 20%off
Expires: 12th June 2012
Where else could you look to find such an array of Fathers Day gifts?  I got lost in the Danna Bananas website looking at all the gifts available, like this BBQ Sword for all the backyard chefs. It's priced at $32.95 but would be $26.36 with the coupon code.  I also found this Duct Tape Coffee Mug to be rather amusing.  It is $16.95, but drops to $13.56 with the Danna Bananas coupon code.
I might also suggest a word of caution, some gifts may be seen as slightly offensive, but that would depend on the individuals tastes.
Shipping is free on orders over $150 and there are no customs or duties for Canadian residents, as this is a Canadian based store.