Cardswap.ca: Exclusive Extra $5 or $10 Back When you Sell Gift Cards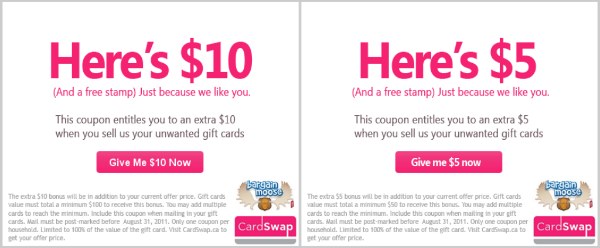 Cardswap is an amazing place to buy and sell gift cards. Do you have any gift cards sitting around in a drawer not being used? Did you get them for a birthday, anniversary, Christmas... or was it so long ago you can't remember? Sell them for $$! When you sell your cards to Cardswap.ca you can get an extra $5 back on gift cards totalling $50, or an extra $10 back on gift cards totalling $100!
Totalling' means you could have a few lower value cards and together they give you extra $$ back. Just print out the above coupons and include them in the envelope when you mail in your gift cards.
I buy cards from cardswap.ca and am loving this place. :-) Sell your gift cards to them: so I can buy them! This is a Mooseclusive deal, so you can only get this through clicking through our exclusive links!