Buytopia: Frozen Yogurt $6 For $10 @ Yogurty's (ON & AB) *BUMP*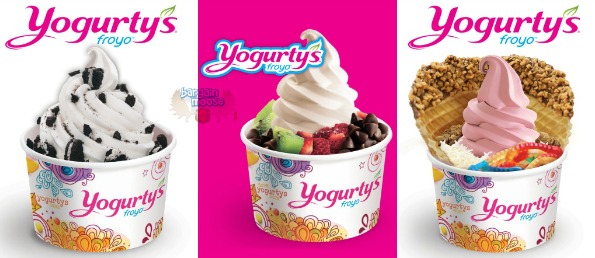 *BUMP! Buytopia has this deal on again, but just for today, so hurry and get yours! A few details have changed, but everything in this post is valid.* Buytopia is selling vouchers for 40% off frozen yogurt at Yogurty's Froyo. You can pay $6 for $10 worth of frozen yogurt and toppings.
Yogurty's only has locations in Ontario and Alberta. However, given the population of Ontario it is still a very good deal. The three locations in Alberta are Edmonton, St. Alberta, and Sherwood Park.
Despite living in Edmonton for most of my life, I had never heard of Yogurty's before. With only three locations, I now understand why. I do love frozen yogurt and enjoy it better than ice cream. It also tends to be healthier than ice cream and has a larger variety of flavours that often taste better than the ice cream equivalents. I love lime or lemon frozen yogurts, whereas ice creams with the same flavours do not taste quite as good in my opinion.
At Yogurt's, choose from over 100 frozen yogurt flavours and over 50 topping including fresh fruit. I could almost do a 50/50 ratio with my topics and yogurt! Low fat, no fat, gluten-free, and kosher frozen yogurt options are available. All their yogurt is made with Canadian milk. They also have a selection of dairy-free sorbets for those with lactose intolerance.
You may buy as many vouchers as you like for yourself or as gifts. You must use the entire promotional value in one visit, whether that is the first $6 for $10 offer or one of the $10 vouchers you bought in bulk. There is also a limit of one voucher per transaction. Thankfully, you can just give one to each member of the family and they can 'buy' their own frozen yogurt. You will have to pay the difference if you go over the $10 and you will have to pay taxes, as those are not included.
The vouchers do not expire until April 15th. I do wish this company was in BC though!
(Expiry: 4th February 2015)