Buytopia Canada: $24 For The Corkcicle Classic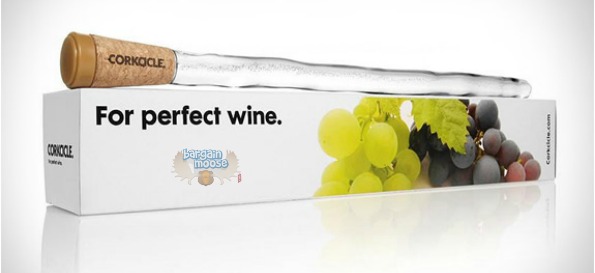 On the list of one of Oprah's favourite things and seen on a variety of television shows including Martha Stewart, the Corkcicle Classic is an amazing invention, now only $24, regularly $35 from Buytopia Canada.
There are not too many things better than a glass of wine at the end of the day. I am not the pickiest person when it comes to wine, but I do want one with a good flavour, not too dry and at the right temperature. I've come a long way from the days when I used to put an ice cube into my red wine.
The Corkcicle keeps your reds and whites at the right temperature. If your room temperature red is just a little too warm, the Corkcicle will cool it down just enough to be palatable. Your already-chilled white wine will stay chilled without an ice bucket or being put back in the refrigerator. You can keep it right with you and not have to make frequent trips back to the kitchen for another glass. This is great for parties too, when the bottle will be left on the table.
It is so simple to use too. Just three easy steps and you've got a cold Corkcicle ready for your next bottle. This makes a really great gift idea. I like the idea of giving my kid's teachers a bottle of wine at the end of the school year. The problem is that it can be a touchy situation asking someone if they drink or not. Giving the Corkcicle sidesteps that discussion because this is something functional and if they don't drink wine, they could give it away as a gift to someone else, but no one will be offended.
You can buy unlimited vouchers for this deal and shipping is an extra $3.99.
(Expiry: 9th June 2013)