Buytopia Canada: $13.50 for 100 Glow-In-The-Dark Pebbles for Walkways (was $30)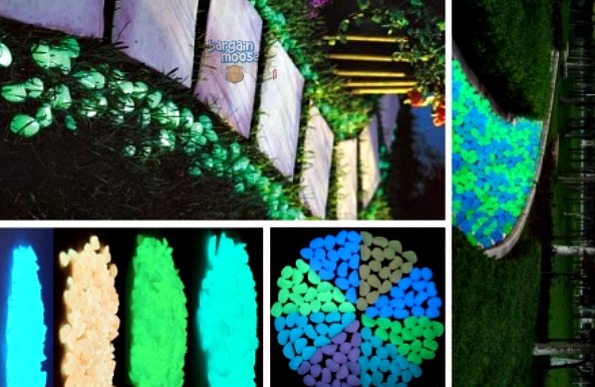 I love checking out the deals over at Buytopia Canada because they are discounted up to 80% off the regular prices that you will find in stores.  Today, I found a deal on a product I have been looking for, for a while now.  You can get these glow in the dark pebbles for your garden or walkways at 50% off the regular price right now.
The regular price of these stones is $30 but Buytopia is offering them for 50% off, now just $15. As a bonus, you can use the exclusive Buytopia coupon MOOSEJULY10 to save an additional 10% on this deal saving you another $1.50.  The end cost after this coupon code will be just $13.50, which is a pretty incredible deal. This coupon code is only valid for two more days so take advantage of it while you still can save that extra money.
This deal will include 100 of the glow in the dark pebbles that you can use on land or in the water.  They absorb light during the day to glow in the dark during evening hours. They are made with non-toxic, non-radioactive materials and they come in a variety of colours. They will glow for up to 12 hours every day so you will have a beautiful display each evening to look at.
Personally, I have been wanting these for my backyard garden to give it a little personality at night.  I also wanted some to line my walkway.  Now, after reading that they work in water as well, I want to get them for my parents pond.  How cool would that be to look in your backyard water feature at night and see these glowing!
At just $13.50, you can afford to get a few of these for yourself or for gifts for any homeowner or avid gardener. If you are looking for some fun ideas and unique ways to use these, make sure to check out Pinterest.  This is where I first saw them and now have an array of ideas in my head as to how I want to use mine!
After the deal closes, it will take approximately 4-6 weeks for delivery.
The taxes are included with this deal so that will not be an additional charge. The cost of shipping is not included with this deal but it is not much at all.  Pay just $3.99 for the cost of shipping.
(Expiry: 12th July 2014)