Black's Canada: 30% Off Canvas Prints With Coupon Code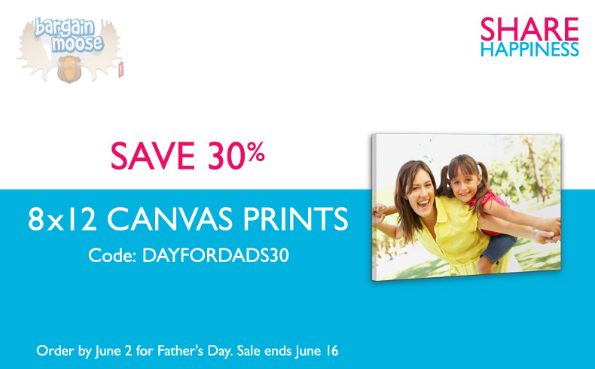 Got a photo you'd love to display on your wall? Well then why not have a canvas print of it made at Black's?
Click here to get 30% off canvas prints @ Blacks.ca
Coupon Code: DAYFORDADS30
Discount: 30% off 8" x 12" canvas prints
Expiry: 16th June 2013
The deal is for an 8" x 12" canvas print and they suggest the picture you put on be it 1010 x 1330 pixels. Its regular price is $59.99, so you save $18, making the grand total $41.99.
This is actually quite cool. I'm sure we've all seen these canvas pictures of a New York skyline or a sunflower. That's what this is, but with your picture. It could be a picture of your kid to hang in your office or a great picture you took on a vacation that you want to put in your living room to remember forever.
You can even add designs and layouts so you can put multiple pictures on it with a nice background. Some of them even have text fields. It's a great option to customize it for the room you want to put it in. It is also good if you're having troubles picking one picture to put up. This way you can put multiple pictures on one canvas.
Shipping is free on orders of $200 or more. For orders under $200, a shipping fee will be applied, depending on where you are having it shipped to.
(Expires: 16th June 2013)