Amazon Prime Exclusive: Bissell Symphony All-in-One Vacuum Steam Mop $146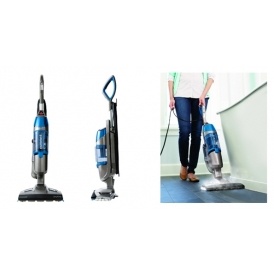 **BUMP ... this fabulous vacuum/steam mop is back as an Amazon Prime Deal of the Day at an even lower price! Prime members can snag it for $145.99 today only!

With our Bargainmoose Live Blog Page we will keep you in the loop on Amazon Prime Day on July 12th! This is the best source on the internet to find your Amazon Prime Day deals with our continuous, live, updates! Bookmark this link and share with your friends.
I can't say that I ever look forward to doing chores of any kind but, oh, how I loathe trying to keep our hardwood floors clean. Between the two large dogs and a toddler, you can just imagine how filthy they get. When we bought this Bissell Symphony Floor Cleaner it was as if I'd died and gone to vacuum heaven. We paid $200 and, let me tell you, it was worth every penny. But Amazon Prime members can get it today for just $145.99!
This little cleaning machine is amazing and deserves every great review it receives. If you have any flooring in your home other than carpet, it will save you SO much time, you won't know what to do with yourself.
What makes the Bissell Symphony Floor Cleaner unique is that it vacuums and steam-mops your floors at the same time. Also unique? The vacuum actually works. So many of these stick or 2-in-1 vacuums have really poor suction but not this baby. It's fairly light-weight and incredibly easy to use. You fill the reservoir with a bit of water, wait a few seconds for the steam to kick in and you're ready to go!
There is even a trigger that produces a blast of steam to sanitize an area or just aid in removing a stubborn mess. This function is especially handy on the kitchen tiles.
It comes with two pads -- a softer one for hardwood and one with soft scrubbers on it for tile. After a clean, you just throw the pads in the washing machine and they're ready to be used again. Very low-maintenance!
As I mentioned, we paid $200 for the Bissell Symphony. I've seen it on sale for as low as $169.99 but this $145.99 at Amazon is great deal. And it will ship to you for free!
Check out this review:
I use this on my laminate and vinyl floors -- best floor cleaner ever!! The vacuum part is surprisingly powerful and the steam cleaner is icing on the cake. I can do 2 jobs at once! Love, love, love my Symphony!!
Couldn't have said it better myself!
If you find yourself spending hours sweeping, vacuuming then mopping your floors, I insist you treat yourself to this cleaner. I promise you'll thank me. After all, though it may be a necessary evil, there are so many more important things to do with your time than clean. The fun usually lies in getting stuff dirty!
(Expires: Unknown)