Beer Drinking Helmet Just $8 + Free Shipping @ AliExpress Canada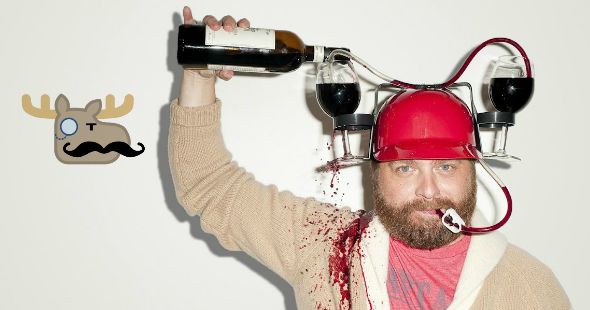 You have got to love AliExpress.com for having unique items at great prices. I just love this Beer Drinking Helmet which is on sale from $15.68 down to just $7.85. You'll even get free shipping. I had found some of these on Amazon.ca for a few more dollars but the reviews were not as good, so this item is definitely the right choice to share with you Moosers.
I have always wanted one of those classic beer drinking helmets, but I didn't want to spend a whole bunch of money on something not necessary. Well right now the 2015 Free Hand Beer Drinking Helmet is on sale for 50% off, which brings the price down to just $7.85 each at AliExpress.com, and I have finally ordered one of my very own. Expect some future slurred speech in my blog posts, haha. Actually, I am quite surprised to see an item of this size still get free shipping from AliExpress. Not that I am complaining, but just one more incentive to add this Beer Drinking Helmet to your shopping cart. I can't think of anywhere else that you could get a Beer Drinking Helmet like this for this cheap and not have to worry about shipping costs. Amazon has them for upwards of $10 but then you have to spend $25 to get free shipping. This option from AliExpress.com sounds better to me.
The only downfall is that you don't get to choose the colour. The only colour available is blue, but either way it is still an awesome item and would make a great gift too. You don't even need to like alcohol to use it! Stock it with our favourite cans of pop or juice for the family BBQ or even while you are watching TV. You could even wear it while driving. Talk about hands free, right? This helmet is also known to be durable and easy to use and clean. Now I wonder how we could rig this item so we can use it to drink wine, eh ladies?
The seller that has this item listed on AliExpress.com is a Top-rated seller with 97.3% positive feedback. It also looks like there have been over 108 reviews on this particular product and it still boasts a 5 star rating. This seller will use China Post Registered Air Male which means the product will take between 15-34 days to get to you. I am excited and will be checking the mail everyday starting in two weeks, what about you?
(Expiry: Unknown)