Applebees Canada: Free $10 Gift Cards (Spend $50)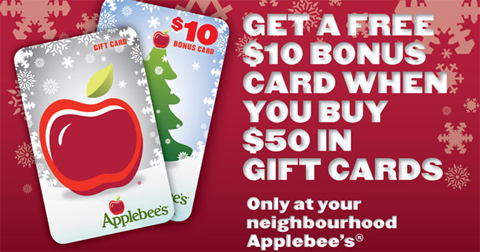 If you are a regular Applebee's patron, I've got a deal for you! If you are buying $50 worth of Applebees gift cards, they will reward you with a free additional gift card worth $10.
You can read about the deal online, but to take advantage you must buy the gift cards in-store.
The deal could be handy if you eat there a lot anyway, you're getting free food by pre-paying. Alternatively, if you're perhaps buying gift cards for Christmas presents, this offer could also be useful.