AMC Theatres: Free Popcorn + Pop Printable Coupon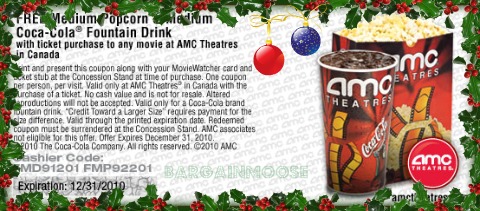 This is a lovely holiday coupon AMC Theatres released on their website. It is for a free medium popcorn and medium fountain drink with the purchase of a ticket. After reading the coupon it also looks like you need to have a MovieWatcher card. We don't have AMC Theatre in Edmonton so I don't know much about this promotion.. except free food is always good.
You could perhaps have your free popcorn, pop and watch the new Tron. :-) I tried to do a search for theatres as the store locator just uses your postal code, and it seems most the theatres I found were in Ontario, however there was one in Montreal. Anyone know if they are out of those two provinces?
Expires 31st, December 2010.