Amazon Canada: Weight Set With Dumbbells Only $89.99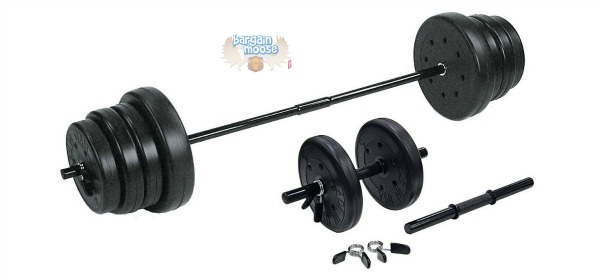 It is exercise season and Amazon Canada has a weight set with dumbbells on sale for $89.99, saving you $10.
Ten dollars may not seem like a big savings, but I am mentioning this deal because this set has incredible reviews. If you haven't added weight training into your exercise routine, you definitely should. Strength training builds muscle and can help build bone and reduce bone loss. Studies have shown that people who strength train lose more weight than people who do only cardio. Also, strengthening your muscles is so important, especially as you age, in reducing your chance of injury or helping you to recover after injury. I have been doing strength training for many years and although I still have weight to lose, I love the definition on my legs and upper body, which have stayed even during the years of non-exercise (a.k.a. the years of no sleep and pregnancy).
This set includes one heavy-duty, four-pound straight bar with textured, non-slip grips, two 20-pound weights, four ten-pound weights, four five-pound weights, six locking spring clips, and two dumbbell bars. There is a total of 105 lbs of weight. The weights are coated and rust-resistant and said to be easy on your floors.
If you aren't sure what you are doing, this set comes with a complete training guide. There are also some great books for weight training for beginners on Amazon Canada as well.
The reviews say these weights are great for beginners, great for people who don't want to spend an exorbitant amount on gym fees or on expensive resistance equipment. Working out doesn't have to be expensive. For less than $100 you can get everything you need by weight training with this set, running or walking outside, and stretching on your living room carpet. I'd even suggest purchasing a cheap jump rope for doing some fast intervals of cardio.
Shipping is included with this set.
(Expiry: 4th February 2013)