Amazon Canada: 30% Off Philips Wake-Up Light now only $70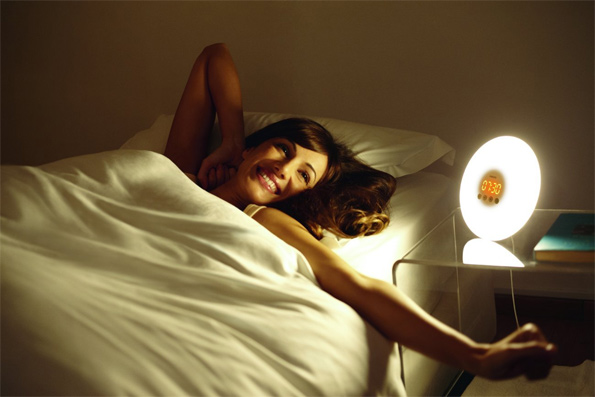 *Bump! This Wake Up Light is back on sale, but this is a better model!*
Now is your chance to be an early bird too – wake up refreshed and ready to start your day. You can save 30% off of the Philips Wake Up Light which is now $69.99 at Amazon.ca. This item is shipped and sold by Amazon Canada, so since it is over $25 you will get totally free shipping.
First, I was browsing the Costco Deal for the Philips Wake Up Light HF3510/60 for $99.99 and through my research and price comparison I found a very similar model, the HF3505/60, at Amazon.ca for $69.99. This Amazon.ca deal is not only 30% off of their regular price, but it also includes shipping. This is the lowest price Amazon has offered on this handy Wake Up Light.
It is so important to start your day off with light. It is only natural for daily life to start when the sun comes up and end shortly after the sun sets. However, you might find yourself having to get up earlier than the sun – especially in the Winter months when the sun can stay sleeping until 8am ;) Philips was inspired by this need for sun, and produced the Philips Wake-Up Light. The Philips Wake Up Light  will use a great combination of light and sound to wake you up in the most natural way. You will find yourself feeling more refreshed, and have an easier time getting out of bed – which seems pretty priceless to me.
Your Philips Wake-Up Light will gradually increase from soft dawn reds to a warm orange colour to finally end up as a bright yellow light. This process will start 10 minutes before your set alarm time. After a little research, the only difference I found between the Philips Wake Up Light HF3510/60 from Costco.ca at $99.99 and the Philips Wake Up Light HF3505/60 from Amazon.ca for $69.99 is the light intensity.
It is proven that almost over 90% of the people who use the Philips Wake Up Light wake up pleasantly and find it a better method than their previous alarm clock. I would much rather wake up to this than to that horrible buzzing noise that my alarm clock does every morning. Sometimes I contemplate throwing it across the room, but I think I will just buy one of these Wake Up Lights instead.
So what do you think? Is the Philips Wake Up Light what you need to wake up to every morning?
(Expiry: Valid while quantities last)