Amazon Canada: Koss MV1 Professional Studio Stereophone For Only $80 (Save $120)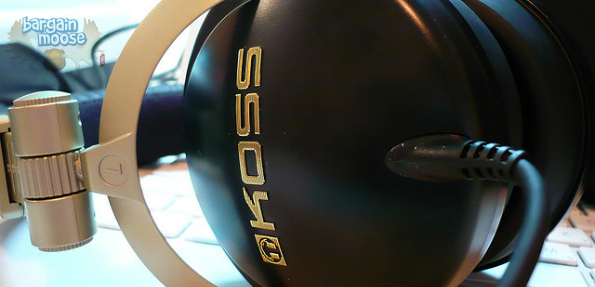 Amazon and Koss have another sale and this time you can get big savings on their MVI Professional Studio Stereophone.
The headphones are normally $199.99, but you save $120 bringing the price down to $79.99. No one sells them at the full price of $199.99, but they are still expensive, a lot more than $79.99.
I'm not an audiophile at all. Right now I'm using a set of LG Tone HBS700 bluetooth headphones with one broken ear bud. Basically, I'm listening to everything in one ear and I really don't care. It doesn't bother me at all to do that because all I want is words in my brain. It doesn't matter how they get there, and that's the other thing. I don't listen to a lot of music. I mainly listen to audiobooks and podcasts as well as some Netflix. So, I don't need to hear every nuance of the second zither. Words in my brain. That's all that matters.
That being said, there are a bunch of reviews on Amazon from people who care way more than I ever will. People like BigPapiT who wrote:
These headphones sound so good, I had to re tune my home theater. The level of detail is amazing. You would not believe the things that go on in the background during live recordings. I use these mainly while playing video games late at night as not to disturb my family. They are a little big and a little heavy but that is more than compensated for with the sound quality. Great product at a great price and I highly recommend them to anyone looking for some nice headphone at a reasonable price. Oh yeah, the build quality far exceeds some more expensive ones that I previously owned. If you are picky and stuck on the more expensive brands, you are passing up a great product.
I've never owned Koss headphones, although I have owned a similar pair of Sony headphones and even though I don't care about the quality, I can definitely tell the difference between high-end audio and junk audio. Having a good set of headphones, especially if you're listening to a high end stereo system, definitely makes a difference. Even if you aren't interested in high-end audio, at this price you can pick these up for the same price as a mid range set.
Shipping is free.
Do you care about sound quality? Let me know in the comments below.
(Expires: 1st September 2013)