Amazon Canada: 53% Off Belkin Charge & Sync Dock for iPhone 5/6 or iPod 5th Gen - Only $20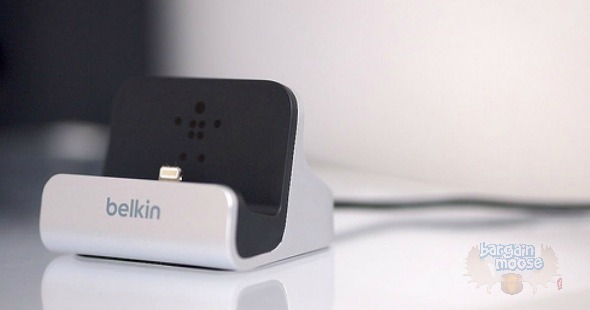 While supplies last, you can snag this Belkin Charge and Sync Dock With Lightning Cable Connector for iPhone 5/6 and iPhone Touch 5th Generation for 53% off the regular price. That leaves you paying just $19.61 as opposed to the regular price of $41.99. Spend $25 to get free shipping from Amazon.ca.
If you are on the hunt for a dock that can charge and sync your Apple device, then you have come to the right place. This Bekin Charge and Sync Dock with Lightning Cables is on sale for a great price at Amazon.ca right now. This Belkin Charge & Sync Dock is compatible with an assortment of Apple devices, so be sure to snag one while they are available at this low price. These devices include:
iPhone 5/5c/5s
iPod Touch 5th Generation
iPod Nano 7th Generation
iPhone 6/6 Plus
While this device is compatible with the new iPhone 6 and iPhone 6 Plus, it may have potential to overheat your device. It looks like users have had no issues so far, so I probably wouldn't be worried. If I had the iPhone 6, I wouldn't let this fact stop me. Just keep checking on your device to make sure it is not getting to warm. This Belkin Charge & Sync Dock comes complete with a 4 foot long USB cable, but you will need your own wall block. The dock I have right now requires me to take my case off of my iPhone every time I use it. Honestly, my heart races a little every time. I have had my iPhone 5 for two years and it still does not have a single scratch. I am happy to hear that this Belkin dock is case compatible, so I don't have to remove my Otterbox every time I want to play my music or charge my phone.
This product boasts some pretty excellent reviews on Amazon.ca. With 89 reviews, it is left with an average of 4/5 stars, which really is terrific for just $19.61. I wouldn't hesitate to add this item to your cart though, I am sure quite a few people have their eyes on this deal. From reading the reviews, I gather that this Belkin dock is quite sturdy. That is important to me, I have a two year old that tends to knock a lot of things off my desk.
Amazon Canada does offer free shipping on orders over $25. So perhaps snag two of these - one for yourself and one as a gift to get free shipping. Otherwise you are looking at spending a small fee of $3.59 to have it shipped to your home.
(Expiry: Unknown)