Amazon Canada: $50 off KitchenAid 7-Cup Food Processor - Now $99.99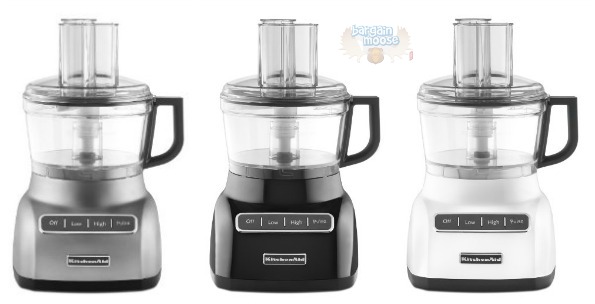 Amazon Canada is offering $50 off the KitchenAid KFP0711CU 7-Cup Food Processor in either silver, black, or white. Originally $149.99, it is on sale for $99.99.
Oddly enough people have had trouble with their food processor and I can easily tell you how to avoid the mistakes they have made:
1. If the blade is on firmly, do not use your bare hands to pull it out. Use some protective gloves.
2. If the food processor won't turn on it is most likely because the lid is not on properly. KitchenAid food processors come with a built in safety that if the lid is not locked on properly, it will not turn on.
We have a KitchenAid food processor and once we figured out these few simple things, it runs like a breeze.
Like this reviewer said:
I would bet that the 2 reviewers that gave this a low rating ran into the same problem that I did which was paying attention to how the lid goes on. Yes, it does matter, and if it is not on correctly, it will not turn on. The base and lid both have to be on in a specific orientation. Works great.
I would certainly try this processor out. KitchenAid makes quality appliances!
Expiry: 24th, September 2012