Amazon.ca: Over 80% Off Pocket Knives - Now Under $15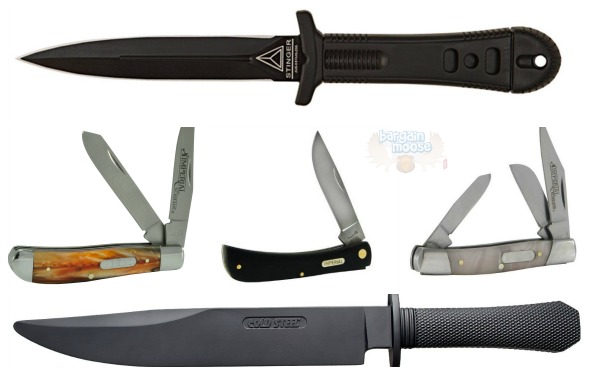 Amazon Canada has a fantastic selection of pocket knives that are all 80% off or more. This brings all the knives under $15, which makes them the perfect give for yourself, Dad, or someone else while staying on a budget.
One of the main brands of knives on sale right now is Schrade. I do not know much about this brand, but they make one, two, or three blade fold pocket knives that would be standard in any man's pocket. There are a bunch of these available all with just little differences that I have decided to list them all here for you:
Three blade Imperial Stainless Steel:
Two blade Imperial Stainless Steel:
Single blade Imperial:
Now those are just all the Schrade Imperial knives you can get for a song. The knives are all 85 - 87% off their original price.
There are a few other charming knives I just have to throw into the mix. This United Cutlery UC2751B Special Agent Stinger Dagger with Wrist Sheath, Black is not exactly a pocket knife but comes close enough. It would come under the category "throwing knife" and I know a guy who use to practice with a set of these in his backyard. He put many holes in boxes. I could never get a good wrist flick going to do much good. This dagger originally cost $71.24 and is now on sale for $12.29.
Smith and Wesson hardly needs any introduction. Amazon is selling this Smith and Wesson CH0015 Linerlock Drop Point Blade with Insertable Aluminum Handle with Pocket Clip for $11.63, originally $71.62. The reviews are only so-so, so buyer beware.
My pick of the bunch is this Cold Steel Rubber Training Laredo Bowie Knife for $14.10 (originally $75.40). My father owns a Cold Steel knife so I am very familiar with the brand. They tend to be a good knife and pretty durable. This is also not exactly a pocket knife but I slipped it in for good measure anyway.
Receive free shipping on orders of $25 or more.
(Expiry: Unknown)