Amazon.ca: LUCID 6" Memory Foam Mattress Was $480 | Now $200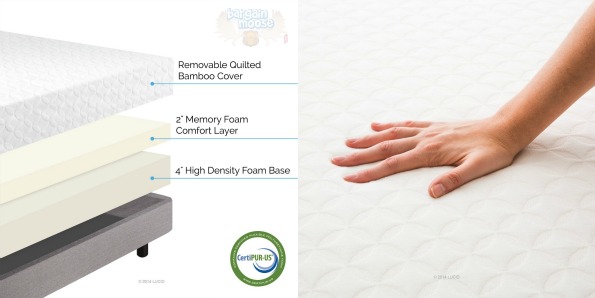 Are you in the market for a new mattress? Amazon Canada has the LUCID 6 Inch Memory Foam Mattress in Queen size on sale from $479.99 down to $199.99 with free shipping.
The Lucid 6" memory foam mattress is dual-layered with a firm feel. The mattress alleviates pressure points and, moreover, provides foam support for a low cost. Memory foam mattresses are not cheap, and the original price of this mattress is a more accurate representation of the usual cost you can expect to pay.
I price compared this mattress with the original manufacturer's website. They are having a Valentine's Day sale right now, so a queen size 6" memory foam mattress costs $187.90 US on their website (after coupon). That is equal to $235.73 Canadian. Purchasing through Amazon, you will also receive free shipping and avoid duties.

Now, if you want another size, they are also on sale. Here is the price tier:
Twin: Was $429.99 | Now $169.99
Twin XL: Was $439.99 | Now $169.99
Full: Was $459.99 | Now $159.99
The full size foam mattress is the best deal at 67% off. However, I do not know a lot of people who own full beds anymore, so I decided to focus on the queen size (everyone I know owns a queen bed).
To give a better perspective, I compared prices with other 6" memory foam mattresses as well. I found a 6" King Koil Double Memory Foam Mattress at Future Shop for $374.99. The twin size was $299.99. As you can see, the Lucid memory foam mattresses are a lot cheaper.

This mattress has 2" of comfort layer of premium memory foam and 4" of high-density supportive base foam. The manufacturer's website says that these mattresses are perfect for children and for bunk beds. While they may not be that deep (6" isn't much), a child is small enough they will not sink all the way through. I think the firm factor will also help give older sleepers support as well, as many adults are pleased with the Lucid Mattress:
I liked mine so much I bought another for another family member. The convenient mail delivery was great. No harsh smells whatsoever. The six inch mattress on both are actually 6 and a quarter inches so it's great. I have never had a more comfortable mattress I highly recommend this mattress at any price.
I encourage you to read through additional reviews as they are quite informative. Most people absolutely love this mattress, find it super comfortable, and well worth the price.
(Expiry: unknown)