Amazon.ca: Dirt Devil Scorpion HV 7A Vacuum Only $29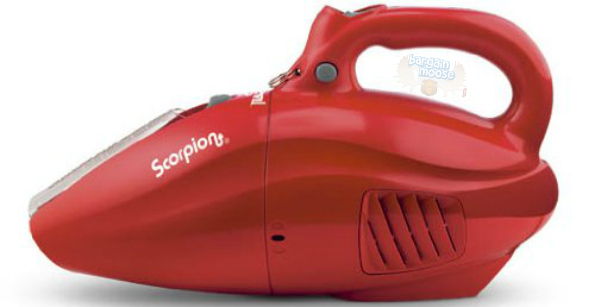 Purchase the hand held Dirt Devil Scorpion Quick Flip HV 7A Vacuum on sale from $44.79 down to $28.63 at amazon Canada. As this convenient little vacuum cleaner costs over $25, the unit will also ship for free to your home.
In price comparing this unit I did find some decent prices. However, Amazon Canada's price was the best compared to these competitors:
$34.99 @ Home Depot Canada (in store)
$39.99 @ London Drugs Canada
$48.30 @ Hookbag Canada
This is a bagless, corded, straight suction hand vacuum cleaner. The bagless design saves on waste and allows you to deposit dirt right into the trash. The 16 foot cord is excellent for extending your reach without having to switch outlets all the time. The vacuum also has this cool quick-flip crevice tool. A plastic channel flips out at the end of your vacuum cleaner to channel suction. It lets you get into tight corners and edges without losing suction.
The seven AMP motor will power through most small messes and it flicks on and off at the switch of a button on the handle. The vacuum also comes with a few extra accessories (besides the quick flip tool). These bonus accessories are a dusting brush, hose, shoulder strap, and an extension.
The reviews are good for this unit as well. Out of 20 reviews on Amazon.ca, the Scorpion Dirt Devil is averaging 4.5/5 stars. One reviewer said:
I have a Dyson cordless and I use this instead because it has greater suction! Believe it. You don't always get what you pay for but in this case the little Dirt Devil outperforms the mighty D. Easy to empty and you can carry the cup to the garbage to empty instead of having to cart the whole unit. Highly recommend.
I find that a bit of a hard pill to swallow as I am a Dyson fan, but they are quite right. Sometimes you buy into a brand name because you liked something they made previously when something cheaper and not as popular will do the job as well - if not better. You can often save a lot of money by trying to over-ride your brand bias to try something different.
For $29, I think this is an excellent purchase. It will save fishing out the large vacuum cleaner (if you have one) or save purchasing a large one if you only have small bits of carpet.
(Expiry: unknown)