Amazon.ca: Daily 50% Off or more Deals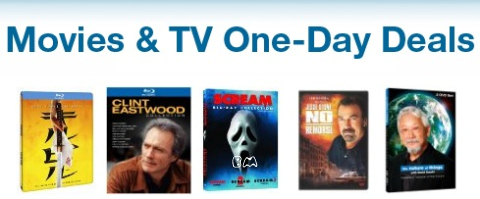 This week Amazon is offering a deal a day this week. Each individual item (excluding "Jesse Stone" titles) will be at least 50% off while supplies last.
Monday: Blu-ray steel books:
"Kill Bill Volumes 1 & 2,"
"Gangs of New York,"
"A History of Violence,"
"Law Abiding Citizen,"
"Pan's Labyrinth,"
"Shaun of the Dead,"
"Sin City,"
"Traffic"
Tuesday: "The Clint Eastwood Collection" [Blu-ray]
Wednesday: "The Scream Franchise Collection" [Blu-ray]
Thursday: Spend $20 on select "Jesse Stone" DVDs and save $10.
Friday: "The Nature of Things Vol. 1: Visions of the Future" and "Global Warning" (A Three-Film Set) [DVD]
Starts tomorrow. If any of the titles interest you I would check early each day.