Amazon.ca: Cloud B Nighty Night Owl Was $40 | Now $15 (EXPIRED)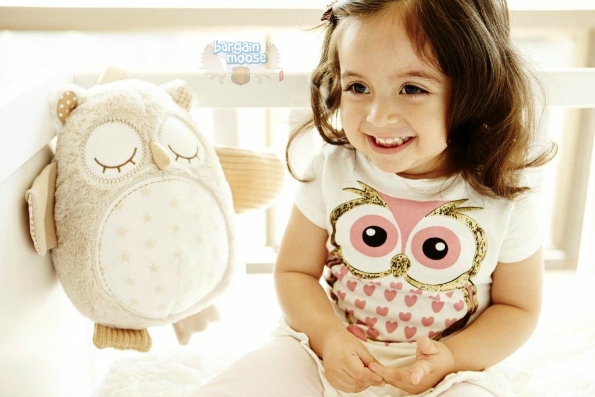 Amazon Canada has discounted the Cloud B Nighty Night Owl 8 Sounds Smart Sensor, Natural Beige from $39.99 down to $15.99. This plush Owl senses when your child is restless and plays a soothing sound to help them get back to sleep. Receive free shipping on $25 or more.
This Owl is still in stock but it will ship in one to three weeks from your order date. Amazon Canada is known for their price fluctuations, thus I recommend purchasing before the price jumps back up. I price compared this Owl at several other online retailers:
$35.99 @ Walmart Canada
$39.99 @ Sears Canada
$39.99 @ Well.ca
$39.99 @ Toys R Us Canada
This little owl was also on sale at Chapters Indigo, but it sold out like lightning.
I think this plush owl has amazing functionality for the price. You have your choice of four soothing sounds or four melodies. The soothing sound options are:
Mother's Heartbeat
Spring Showers
Ocean Surf
Whale Songs
The four melodies are:
Twinkle-Twinkle
Rock-a-Bye Baby
Classical Lullaby
Tranquil Melody
There are also three sound sensitivity levels so you can customize the sound level for your child. The motion sensor will detect when your child is restless and then restart the Cloud B Nighty Night Owl from the last melody played and from the same sound level you selected.
One reviewer on Well.ca said:
We bought this for my newborn son but my 3 year old actually benefits from it the most! She sleeps so well with white noise in the background and the velcro handle is convenient for attaching it to her bedrail. With a woodland themed bedroom, we also LOVE how adorable the owl is!
I have always been a light sleeper and have had great difficulty with falling asleep since I was a child. My parents bought me a white-noise generator with many different sound options. I liked to listen to the ocean surf sound the best. Later on, I got a fan and it stays on 24/7 to help me sleep and block out street noise. Thus, this little sound system might be great for adults who like cute stuff and have a hard time sleeping as well, though it is designed for kids.
(Expiry: Unknown)