Adorable Wonderworld Toys From $5 @ Amazon Canada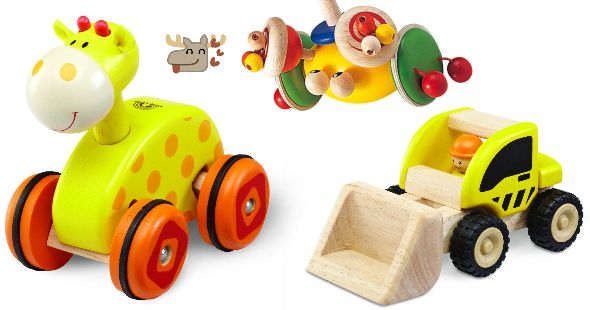 Whether you are looking for stocking stuffers or gifts for under the tree for your kids this year, there are quite a few adorable Wonderworld brand toys on sale over at Amazon.ca starting as low as $5.10. These items would make fabulous stocking stuffers or wrap them up and put them under the tree this Christnmas. Spend $25 or more and you will get free shipping too.
I wish I found these adorable little wooden toys back when my son was an infant. He would have loved getting some of these for Christmas, and I bet they would make fabulous baby shower gifts as well. There are quite a few different types of toys available between the prices of $5.10 and hundreds of dollars, but I am sure the higher priced items are a pinch inflated... so let's stick with the items that won't cost you as much as your lunch does.
Let's start with the super-cute Wonderworld Wheely Giraffe Toy. This adorable trinket was originally $14.99, but reduced to $5.10 for a short time. This adorable character has bright colours to attract the eye of infants and tots alike. It will also promote hand eye coordination and hand muscles of your little one. The Wheely Giraffe will even wobble back and forth as your little one rolls it along the wheels.
My son would have just loved this Wonderworld Mini Loader Toy. It was originally slapped with a price tag of $17, but is now just $6.29. There are only 10 left in stock, now that I have ordered one. I have a cousin who is expecting a little boy and this is a perfect gift for his first Christmas. The loader part even goes up and down on this cute little machine.
To switch it up a bit, check out this Wonderworld Twisty Crab. How cute is this?! It was $24.99 but now it can be yours for just $9.10. This adorable little crab toy would be excellent for your kiddo to push around when they are learning to walk. It is best suited for kids aged 18 months and up. As you push the toy along, the crab will twist and turn. Cute, right?
These toys are made with non-toxic paints, dyes etc. They are also made with 70-percent recycled paper! So they are affordable, but they are environmentally friendly as well. The great thing about Amazon Canada is that they have a whole variety of unique items that you may never find in physical retail stores. Also, if you spend $25 or more then you will also get your purchased shipped free directly to your home.
(Expiry: Unknown)