48% Off Easy No-Snow Shovel Just $130 @ WagJag.com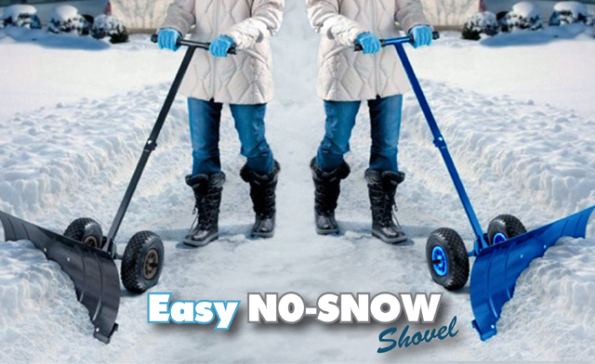 *Bump! This offer is back again - and I know I'm tired of regular shovels!*
It is inevitable. The snow is coming, and we are going to have to shovel it. By the end of the last snow season I was desperate for back pain relief. I may have just found the solution. Right now WagJag has the Easy No-Snow Shovel on for just $129.99, which is 48% off the regular value. I am ready to make snow removal a little easier, what about you?
Nobody likes to shovel snow, so everyone is looking for an easier way to do it. Rather than hiring the neighbour's kid to shovel your driveway and deal with the frustration of them never getting around to it, why not do it yourself? Here is a little life-hack item that will make this job a whole lot easier. Right now you can snag the Easy No-Snow Shovel for just $129.99 from WagJag.com. This shovel is valued at $249. I did find similar shovels for around the same price, but they had a much smaller blade which in the end may make your life more difficult.
This Easy No-Snow Shovel has a magnificent sized bi-directional steel blade. It also boasts a commercial rubber tip on the shovel to reduce noise or any damage caused by scraping. The handle is adjustable, and I think this shovel is the perfect new addition to your family. There are four different colours available, so you can even get them as his & hers shovels. Here are the colours you can select at the WagJag.com check out process:
These nifty Easy No-Snow Shovels are even collapsible for optimal storage. They only weight 27 pounds so getting it from point A to point snow is not going to be much of a hassle at all. The description says you will remove your snow within minutes, but I would venture to guess they have not seen the size of my driveway! Either way, my snow blower called it quits at the beginning of the last snow season so I would much rather buy one of these nifty shovels than pay hundreds of dollars on a new snow-blower.
I had to read the fine-print to get the details on shipping of course. You are limited to 10 buys per person. I am not sure why someone would want so many shovels, but that is your limit. You will also have to pickup your purchase from the Toronto store location or call to arrange delivery. Delivery is free within Ontario, but outside of Ontario is going to cost you. You will need to contact the seller to get your shipping price if you are outside of Ontario.
(Expiry: 30th March 2016)