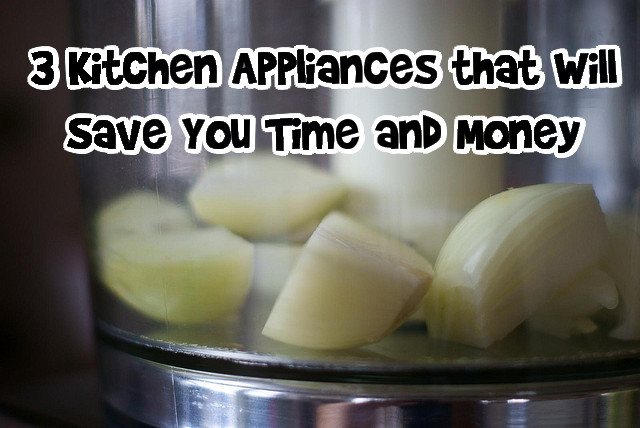 My kitchen is so small I'm not the type of person to have every kitchen appliance under the sun, although that would be nice, because the Aqua Sky Kitchen Aid mixer has always had my eye.  There are a few kitchen appliances that I am a huge fan of that I already have, and there are a few kitchen appliances that I am thinking for a future purchase of adding to my kitchen appliance collection.  Most of these aren't very pricey and really give a good bang for your buck.
There are a few ways to evaluate whether a kitchen appliance is worth it.  I remember my family had an apple peeler (it cored the apple and peeled it in a spiral fashion, it was fun to watch actually) but it unfortunately just collected dust and was never taken out of its box except for a handful of times.  LifeHack has a great post explaining which kitchen appliances people on a budget should have.  Learnvest also has a great post entitled "Are These Kitchen Appliances Worth It?" detailing the number of times you need to use the appliance before it is "worth it" in terms of the price you paid.  Obviously the more times you need to use it to 'break even' the worse the purchase that kitchen appliance is to add to your kitchen arsenal.
Here are three kitchen appliances that, in my humble opinion, are worth the money and the kitchen counter space (or cupboard space) because they will save you money and time (time is priceless, isn't it?):
Slow Cooker or Crock Pot
I am a huge huge fan of the slow cooker and honestly, that feeling you get when you finish the 6 to 10 hours of waiting for the food to cook, when you smell the intoxicating smell of the slow cooker meal, and when you open the lid is to peer in at what you threw into the pot without much effort... is priceless!  Slow cookers or Crock Pots (kind of like the tissue paper and Kleenex analogy) are very economically priced, you can get a decent one for about $50 and they last for a long time.  You can make all sorts of things with a slow cooker.  When choosing one, look for fancier options like one that automatically switches to 'warm' when it is finished cooking, or one that can extend the cook time to 16 hours or longer (for those who are interested in making the new health craze, bone broth, this is a great option).  The slow cooker is perfect for busy people who don't have time to cook at the end of the day, or perfect for batch cooking and freezer cooking.  Personally I make something in my crockpot on the Sunday and have leftovers throughout the week.
Here are a few great easy and cheap slow cooker recipes to get you started.  Also, Bargainmoose often posts some great deals for slow cookers through Amazon.ca, Walmart, or Lowes.  Check out this recent Bargainmoose deal from Walmart for $33!
Dehydrator
I personally haven't purchased this yet but have been doing some research.  The costs are anywhere from $75 to $200 and it definitely takes up a large portion of your cupboard space (I personally would not want something like that sitting on my counter).  Here is an example from Canadian Tire and one from Amazon.ca.  If you are someone who camps often, this is definitely an investment worth making.  Dehydrating your food instead of buying the $9 per two servings of dehydrated food at your local camping/ outdoor equipment store will save you money.  Also, beef jerky is expensive so why not make your own?  In addition, my dog likes sweet potato chews (he has lots of allergies) and these chews cost $20 for a about 18 slices.  A dehydrator would shave a lot of money off that regular expense.
A French Press or a Nespresso
For all you coffee drinkers, a home brewed coffee costs much less than $1 a cup compared to a $3.95 + tax latte.  Over the course of a year, that daily latte right before work adds up to $1000.  Personally I would rather go on an all inclusive trip to Mexico or Cuba for that annual cost, but to each their own!  Here's a post from TheKitchn on how to make a latte without an espresso machine.  A Nespresso machine is pricey, but there is a $100 rebate to offset some of the cost currently.  A Bodum French Press costs anywhere from $25 to $50.
Bargainmoosers, do you have a kitchen appliance that you are a fan of?   Do you recommend buying a dehydrator?
Photo credit: Mario Spann