100 Lindor Truffles For Only $30 @ Lindt Canada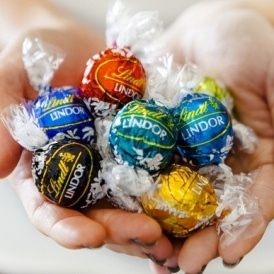 You had me at chocolate. For a limited time, you can head into your local Lindt store and get 100 Lindor Truffles for only $30! Awooga, this deal is super awesome and I can't wait to enjoy it myself. The catch is that this offer is available in stores only. Luckily - there appears to be quite a number of Lindt stores in Canada.
Let's get real here. These tiny chocolates are dangerously delicious. Can you imagine having 100 of them?! I can! I don't know how well I will share, but I do know that spending $30 on these delicious treats won't even need a second thought.
There are so many flavours too - so you can really go to town and get a variety. My favourite has to be the white chocolate (in the blue wrapper), but I have always been a sucker for hazelnut too. What is your favourite?
There is no expiry date listed for this offer - but I wouldn't wait long. Supplies usually run out rather quickly (no kidding), and this is the best deal you are going to find on these delicious little treats. Plus, the Lindt Stores usually have a variety of deals going on in stores - so it is worth the shop for sure.
(Expiry: Unknown)