10 Free eBooks Today Only @ Amazon.ca (EXPIRED)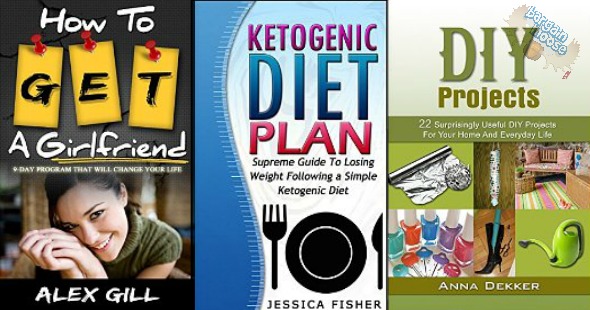 Winter has arrived abruptly, and with colder weather we usually stay inside more. Why not cuddle up in front of the fireplace (or fire channel on TV) with an eBook? Amazon.ca has 10 free eBooks available today. Although these books are designed for a Kindle, you can download the Kindle app to your computer and read it straight from there. To get these eBooks for free, just add them to your cart and download them. Just make sure they show up as $0.00 before confirming, sometimes Amazon can be tricky like that.
The first of the 10 Amazon Canada free eBooks available might be perfect for some of you gentlemen out there. How To Get A Girlfriend: The 9 Day Program That Will Change Your Life was $3.28 previously, but is now free. This eBook might just help you discover how to get a girlfriend. It will help you naturally attract women just be realizing you are an established man. It will also help you with approaching women and overcoming fears, because we all know how scary it might be to approach us women. :P
Not interested in getting a girlfriend? Perhaps you are more interested in some survival skills then. The Preppers Survival: 48 Survival Tacts That Will Save Your Life was $3.34 and is now free. If you didn't use the last book to get yourself a girlfriend, then you might need this eBook to help you survive without one. In all seriousness though, it would be great to know how to prepare for an emergency quickly when you need fire, shelter, food, water and more necessities. This is an excellent read, especially being free.
Over the Holiday season you will probably find yourself saying: "Wow that would be an excellent picture!" So why not read Digital Photography: The Ultimate Guide For Fast Mastering Aperture, Shutter Speed, ISO and Exposure and learn all about how to take an excellent photo. This eBook was $3.46 but today you can acquire it for free. This book is great for beginner photographers and if you want to learn some new techniques.
If you purchase a puppy for your family this Christmas, you will want to indulge yourself in the eBook Dog Training Mistakes: 25 Destructive Dog Training Mistakes That Are Fatal For The Behaviour Of Your Dog. This particular eBook was $3.46 and is now free. This book really will be priceless though, especially because most mistakes you make when training your dog are unconscious mistakes.
Some of us will have a new year's resolution to lose weight, or possibly eat healthier. Get a head start with this free eBook from Amazon Canada! Ketogenic Diet Plan: Supreme Guide to Losing Weight Following a Simple Ketogenic Diet was $3.46 but today it will cost you absolutely nothing. This eBook will teach you about ketogenic diets and what you should eat.
Does your hubby like projects around the house? The eBook DIY Projects: 22 Surprisingly Useful DIY Projects for Your Home and Everyday Life is all about everyday life hacks like do it yourself dryer sheets, watering cans and so much more. This book was $3.46 and is now free.
I have a toddler in my household that we have just started potty training, and for the life of me I could not find a free potty training information book. Today though, Amazon.ca has the eBook Potty Training in 3 Days: The Incredible Potty Training Guide to De-Stress Results in Just 3 Days for free. This 30 page book might just make your life easier during this essential learning curve. It is odd that the child on the cover of the book is using the toilet with his pants on and done up though...
The Ultimate Beginners Guide to Master Evernote in 3 Days is also free today from Amazon.ca. This eBook will help you overcome any confusion with learning Evernote. Make your virtual filing cabinet a little easier!
I have never personally found myself alone in the wild, but you might want to download this free eBook just in case you do. If you find yourself alone in the wilderness, just crack open Alone in the Wild: The Ultimate Guide to Wilderness Survival (which is free today) and all of your issues will be solved within the 35 pages.
Last but not least, the tenth free eBook from Amazon.ca today is Survival Pantry: Advanced Guide to Food and Water Storage, Canning and Preserving. While this book was regularly $2.91, you can get it for free today only from Amazon.ca. Within the 34 pages of this book you should be able to learn all about preparing and using a survival pantry.
After reading all of these Amazon.ca eBooks, there is no reason that you shouldn't be able to survive in the wilderness while potty training your child and training your dog!
(Expiry: 20th December 2014)