Walmart Canada: Proctor Silex 12c Coffee Maker - $12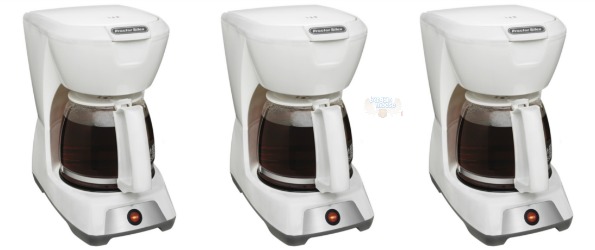 Do you just need a cheap coffee maker that works? Let me introduce you to the Proctor Silex 12 Cup Switch Coffee Maker that Walmart Canada currently has for only $12 + free shipping. It is your basic coffee maker with no bells or whistles: it just makes coffee.
The coffee pot is already sold out in black, but it is still in stock in white, which is what I have linked to above.
How about a little price comparing? Sears.ca has this coffee maker listed at $19.97 + shipping (and handling). The manufacturer has the price for this coffee maker listed at $19.99 US and most the US websites had this coffee maker listed for around $20. I will admit that Amazon.ca has this sale coffeemaker (in black) on sale from $24.99 down to $12; however the free shipping minimum for Amazon.ca is $25 so you would either have to pay for shipping or buy other stuff to get it to ship for free. Walmart's offer is still better.
I actually ran across this deal while looking for a simple coffee pot for my parents. Their coffeemaker had broken down and they had not been able to get into the city lately to pick up a new one. They just wanted something basic without any bells and whistles so I was trying to find this one in store somewhere so I could take it out to them. Every single location in town (we are talking a population of one million here) was sold out of this coffee maker. Evidently, it is a popular little beast.
If you are looking for a timer or a clock, this is not the model for you. It just comes with a simple on/off switch which is illuminated for your late night coffee habit. The maker does feature an automatic pause and serve function where the coffee will stop dripping so you can take a cup. Besides that, you have your standard dishwasher safe carafe and compact design. This baby should fit on any counter top. The maker fits 8 - 12 cup filters and should fit the reusable basket as well.
Everywhere I look this machine has good reviews. One reviewer commented:
This is an excellent machine especially for the low cost, I am extremely satisfied with this coffee maker.
I figure that you just cannot go wrong when a coffee machine only costs $12 with free delivery to your door.
(Expiry: Unknown)