Walmart Canada: Insanity - The Ultimate Cardio Workout & Fitness DVDs, $119.97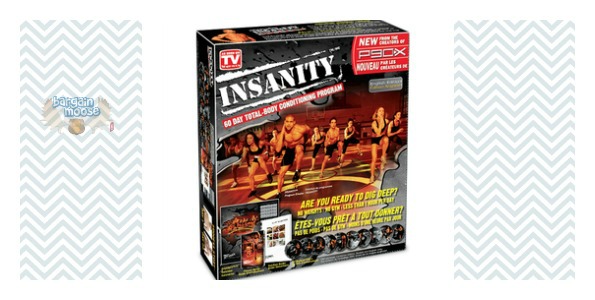 Get the Insanity Ultimate Cardio Workout and Fitness DVDs for only $119.97 online. I price matched this set and this was at least $20 cheaper than everyone else.
This series of 10 DVDs is known as the "hardest workout program ever put on DVD". Shaun T is your personal trainer on these DVDs and he will kick your butt. With a great resume of workout DVDs under his belt, he knows how to get someone into shape. The DVDs include non-stop fitness action like plyometric drills, strength, power and resistance drills and hard-core ab and core training moves. You don't need any equipment except a DVD player and a TV.
The expected results of working out with these DVDs include burning up to 1000 calories in an hour and a noticeably different body in 60 days. Max Interval Training is long bursts of maximum-intensity exercises with short periods of rest that lead to mind-blowing results.
The reviews of this series are amazing, with people finding amazing results within the 60 days, especially in their core muscles. So, if you are looking to step up or even start a great core workout, these DVDs are for you.
This item qualifies for free shipping.
Expiry: Unknown