Walmart Canada: 25% Off Corelle Dishes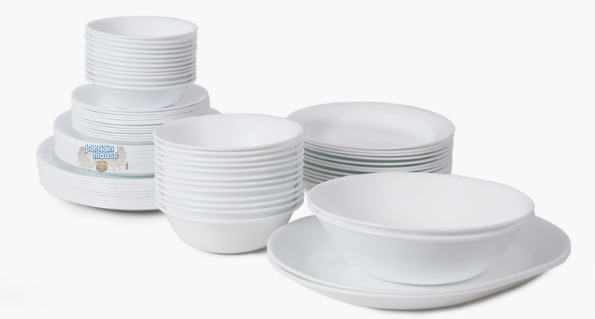 If you are looking for a new set of dishes because yours are broken or missing, Corelle is a great brand. Walmart has 25% off sets of Corelle dishes right now.
Corelle is known as the unbreakable dish. My grandmother told me this when I was at her house one Thanksgiving, but I told her she didn't know my kids well enough. For some reason, I do think they proved her wrong and a Corelle dish broke, but it could have been an imposter. I actually have a few pieces of Corelle and so far so good - they have lasted longer than the wedding dishes I got as a gift that were beautiful, but totally breakable.
If you are a foodie, you know that white is the best colour to show off your food. This winter frost white 76 piece dinnerware set has everything you need and is just a simple white. Was $179.93, now $158.
If you don't need a full, large set like the one I just mentioned, check out the Corelle Square simple lines 16 piece set. I actually have this set and it looks nice. The black lines and square plates add just a little bit of detail, but not too much that you are overwhelmed. Was $62.97, now $49.84.
If you love whimsy, then the Corelle Square happy days 16 piece set is for you. Was $62.97, now $49.84.
Shipping is absolutely free!
(Expiry: Unknown)