The Bay Canada: Miracle Suit Only $120 (Was $200)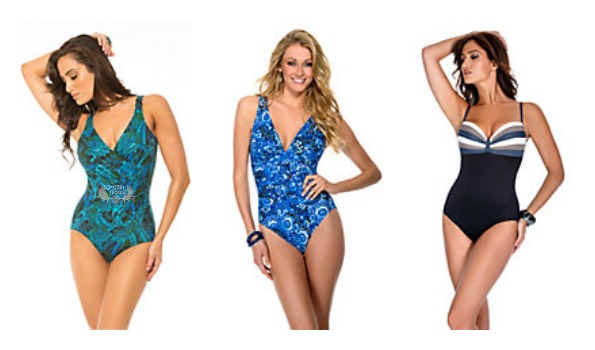 The Bay Canada knows that shopping for a bathing suit for the upcoming summer season can be hell, so they've got all of their Miracle Suit bathing suits on sale for $120.00, with a regular price of $200! This makes me heave a sigh of relief as I desperately need a new bathing suit that is flattering and that I won't have to sell my children for.
Last night I spent a few hours searching for a bathing suit online, knowing that Canada Day long weekend will be here before I know it and I might have to hang out in a swimsuit in front of people. Last year it wasn't as big of a deal for me but I gained a bit of weight over our very long winter and want something that can hide my pooch! Luckily for me, I found the Miracle Suit! It is strategically designed to hide your problem areas, and for me, that is my tummy. Hey, I have had three kids, including a c-section, so I am proud of what my body is done, I just don't want to let it all hang out while I go swimming.
There are a number of suits on sale, with many for $120, but there are many others with different regular and sale prices, but all along the same lines. For example, I love this one-piece pin dot print swimsuit (and I think this is the one I'm getting), and it is now $120, with a regular price of $200. It has the signature Miatex fabric for shaping, but also ruffles for hiding front area issues and soft cups in the bra for shaping of your breasts. But, there are also a number of suits on for $122.50, with a regular price of $175, which isn't as great of a deal, but still a great deal off, nonetheless. This one-piece with all over abstract print is very flattering and one that is $122.50.
The Bay ships free on orders over $100 so most of these suits will ship to you free as well.
(Expiry: Unknown)