Singer Start Basic Everyday Sewing Machine Now $80 Shipped @ Amazon.ca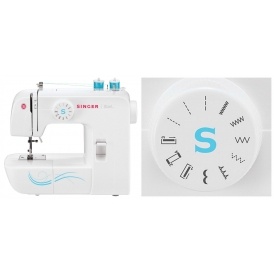 The most popular starter sewing machine is on sale folks, and you won't want to miss out! Get the Singer 1304 Start Basic Everyday Free Arm Sewing Machine on sale for 58% off while supplies last. This sewing machine was originally $189.99 and is now just $79.99 shipped, which is quite a steal.
Good sewing machines can go for hundreds of dollars. I can tell you right now that I have this very same sewing machine sitting on my table and I love it. I can repair my kiddo's clothing, I make collars for my dogs, you name it. I am quite crafty and it is a great hobby. I have had this machine for over two years now and it has not failed me once. I even paid regular price, so getting the Singer 1304 Basic Everyday Free Arm Sewing Machine for just $79.99 is a sweet deal for sure.
This sewing machine will have more than enough stitches for the basic sewing lady. Now, if you want to make your own wedding dress then this isn't the machine for you but it will hold up to repairing jeans or making crafts. This machine is great for experienced sewers as well as new sewers. Given the price point and versatility of this machine, I think this is a fab deal and can encourage anyone to pick up the hobby.
Amazon.ca offers free shipping on orders over $25, so you won't have to worry about any additional fees on this machine. You will pay just $79.99 plus tax, that's it.
(Expiry: Unknown)