Sears Canada: Save $500 Lagostina 'Gastronomica' 12 Piece Cookware Set Now $199.88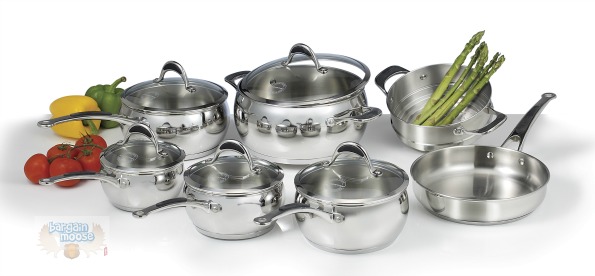 Sears Canada has a hopping deal for a 12-piece Lagostina 'Gastronomica' Cookware Set. Save $500.11, when you buy this set for $199.88. Originally $699.99 you are getting an extraordinary deal!
The 12 pieces include:
14cm (1.2L), 16cm (1.8L), 18cm (2.5L), 20cm (3.3L) saucepans with lids,
24cm (6.0L) Dutch oven with lid,
24cm open skillet
16 x 18 x 20cm steamer insert
This is an extensive set, and has been well reviewed:
Was looking for a cookware set with glass lids, most cookware sets I found don't have the glass lids. Tried this set out and love them. The set includes all pots that I need, sturdy and heavy pots, and the handles are comfortable to hold with the santoprene inserts. Would recommend this set if you're shopping for a cookware set with glass lids.
I like glass lids too, I kind of like to see the food cook. Really helps when cooking food like rice.
Free shipping on orders over $75.
Expiry: 30th, September 2012