Sears Canada: $52 Off Cuisinart 11pc Knife Block Set - Now $78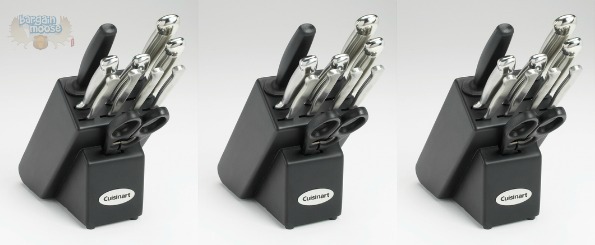 Get $52 off this Cuisinart 11-Piece Forged Knife Block Set from Sears Canada. Originally $129.99, the set is now on sale for $77.99.
We have a knife and block set which I just adore. I don't know how many cuts I have saved myself by not having knives laying around in kitchen drawers. With the blades always protected by the wood, it keeps my fingers safe and I always know where to find one (knife, I always know where my fingers are). My block set also has scissors like this one - which is extremely convenient. I seem to use them all the time and before, they would go missing. Now that we have the block it makes finding the scissors a breeze.
This set comes with:
8" sharpening steel
All-purpose shears (scissors)
8" Chef knife
7" Santoku knife
5.5" serrated utility knife
3 1/2" parer
four 4 1/2" steak knives
natural black block
It has pretty much all the knives a household needs.
Shipping depends on what you buy and where you live. You can also choose to have your order shipped to your nearest Sears store or outlet for a $4 handling charge.
(Expiry: 11th July 2013)