Bikini Bits From Only $3 @ Walmart.ca & Free Shipping!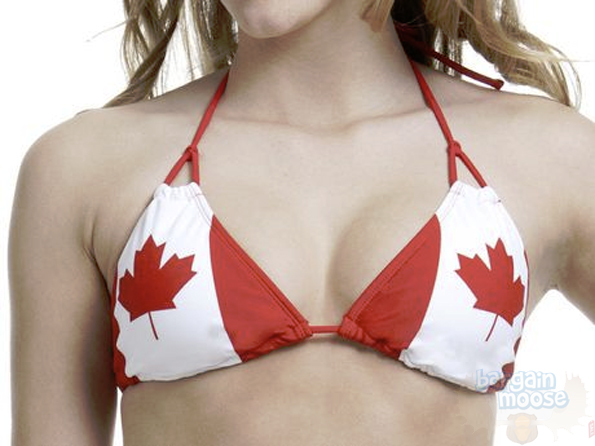 The summer is creeping onwards, but I know that some of you have yet to hit the beach or go on vacation. If you're a female looking for some swimwear for the occasion, you might want to check out these clearance bikini prices online at Walmart Canada. They have pieces starting at only $3 each. Technically you could pick up a whole bikini set for $6… and they all come with free shipping too.
The above link should show you the items priced from low to high - if not, just hit the sort by "price," then you can see everything available in the ladies clearance swimwear range. There are 92 items to choose from!
The bikini top that I have pictured in the image above is this Maple Leaf Triangle Bikini Top which is priced at $5.94. Are you canuck enough to wear this on the beach? If so, you'll probably want the matching maple leaf bikini bottoms, also $5.94.
Examples of tops:
Examples of bottoms:
Examples of matching sets:
Remember, free shipping on everything above!
I've bought cheap bikini separates like this in the past and their lifespans have been both short and long. Some have fallen apart within a few months. But I've also got some cheap bikinis which have lasted for many years. I like purchasing neutral sets that can mix and match, such as a plain black set of bikini panties which can be paired up with any colour of bikini top.
When I was in Spain last month, that's exactly what I did. I brought 3 bikini tops and one set of black bottoms. I just changed the various tops if I was swimming, or heading out for the evening; with the bikini usually under my beach dress or sarong. It was very handy!
Have you had your vacation yet? Need any bikinis?
(Expiry unknown)