TrendTrunk: Exclusive Mystery Giftcard - Free $5 to $250!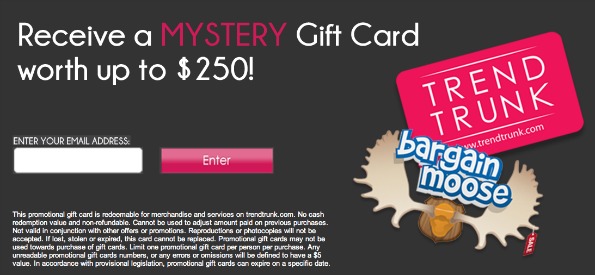 TrendTrunk is one of my new favourite places! Trend Trunk and the Bargainmoose have teamed up to give our Moosers an extraordinary offer: get a free $5 to $250 gift card for Trend Trunk. It is simple, just provide your email and they will send you a gift card within 24 hours.
This is for new members, people who have never used Trend Trunk before. The min guaranteed value is $5, but there are cards at $10, $25, $50, $100 and $250!
Trend Trunk is an across Canada marketplace for clothing and accessories. $8 shipping is calculated into your price, and you get a free shipping label! Some of the things I have shipped would have cost me a fortune to do so. TrendTrunk takes 20% the selling price (excluding shipping). This is very reasonable compared to brick and mortar consignment shops which take around 50% usually.
Seriously Moosers: I LOVE Trend Trunk! I am a typical girl, I have a ton of stuff I have collected over the years that I just don't wear or use anymore. Many things are in mint, or excellent condition. I have sold off a bunch of stuff already and have made back around $500 back so far! That is incredible! There are some great items for great prices on the website from other Canadians, be sure to check it out.
As a last note: TODAY is the last day to enter the $10,000 Cash In Your Closet Contest! It is a big contest with awesome prizes, so be sure to register an account and get some entries!